10000W/10KW 180V-1000VDC Three Phase 2 MPPT Transformerless Waterproof IP65 Grid Tie Solar Inverter with CE RoHs Approvals

10000W/10KW 180V-1000VDC Three Phase 2 MPPT Transformerless Waterproof IP65 Grid Tie Solar Inverter with CE RoHs Approvals
UE series inverter has power from 4000-20KUE models. This type inverter enjoys high-end technology and professional develop team. If you have any requirements and questions about this type inverter, please contact with us directly.
Highlight of Product
1. Leading-edge Technology
1). DC input voltage up to 1000V
2). Maximum efficiency of 98%
3). Internal DC switch
4). Transformerless
5). Compact design
6). Multi MPP control
7). MTL-String
8). Bluetooth/RF technology/Wi-Fi
9). Sound control
10). Easy installation
11). Comprehensive warranty program
2. Europe / Australia ENS
1). Simple national setting of line supply monitoring (ENS)
2). Easy country configuration
3). Multi-language display
4). Currently available for Germany, Austria, France, UK, Switzerland, Italy and Spain, etc.
3. Features
1). DC Connection: H4/MC4 (opt)
2). AC Connection: Screw terminal
3). Display: LCD
4). Warranty:5 years / 10 years (opt)
5). Interfaces:RS485/RS232/Bluetooth (opt)/RF (opt)/Wi-Fi (opt)
4. Protection Devices
1). DC reverse polarity protection
2). DC switch for each MPPT
3). Output AC overcurrent protection
4). Ouput AC overvoltage protection - Varistor
5). Ground fault monitoring
6). Grid monitoring
7). Integrated all-pole sensitive leakage current monitoring unit
5. Certificates and Approvals
VDE-AR-N4105, CEI 0-21, CE, VDE0126-1-1, IEC 62109, RD 1663/2000, G59/2, EN50438, AS4777, AS/NZS 3100
Parameters
Model

10000UE

Input Data (DC)

Max. DC Power

10500W

Max. DC Voltage

1000V

Start Voltage

350V

PV Voltage Range

180V-1000V

MPP Voltage Range / DC Nominal Voltage

300V-1000V/600V

Full load voltage range

400V-800V

Number of Independent MPP Trackers / Strings Per MPP Tracker

2/2

Max. Input Current

15A/15A

Max. Input Current Per String

20A

Output Data (AC)

Rated AC Output Power

10KW

Max. AC Power

10KVA

Max. Output Current

16A

AC Voltage Range; Range

3/N/PE, 230V/400V 184-275V

AC Grid Frequency; Range

50/60Hz; 44-55Hz/54-65Hz

Adjustable Displacement

0.8 leading-0.8 laging

THDI

<3%

AC Connection

Three Phase

General Data

Dimensions (W/H/D) in mm

740/440/235

Weight

41kg/90.4lb

Operating Temperature Range

-25

°C

-+60

°C

Noise Emission (Typical)

≤5

5 dB(A)

Self-Consumption Night

<0.5W

Topology

Transformerless

Cooling Concept

Smart cooling

Environmental Protection Rating

IP 65

Altitude

2000m without Darating

Relative Humidity

0-95%
Efficiency
| | |
| --- | --- |
| Max. Efficiency | 98% |
| Euro-eta | 97.5% |
| MPPT Efficiency | 99.5% |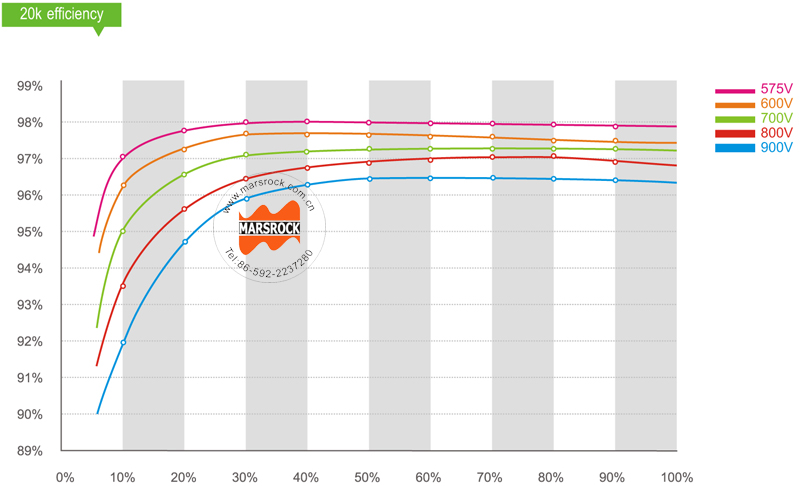 Inverter Overview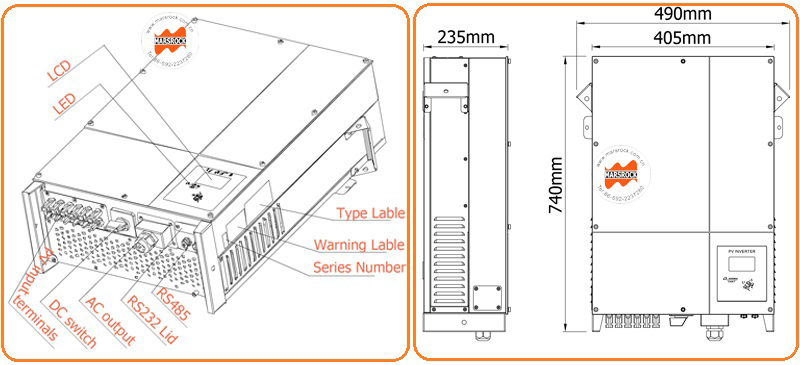 Intended Use
This UE Series inverters are to be used solely to feed solar energy converted photovoltaically into the public grid. This series inverters are multi-string inverters with multi-MPP trackers, which mean they are able to connect to different PV module arrays. The equipment may only be operated in compliance with its intended use.
Grid-tied PV system Overview:

The inverter may only be operated with a permanent connection to the public power grid. The inverter is not intended for mobile use. Any other or additional use is not considered as intended use. The manufacturer is not responsible for any damages resulting from unintended use. Damage caused by such unintended use is at the sole risk of the operator.
Photos of Inverter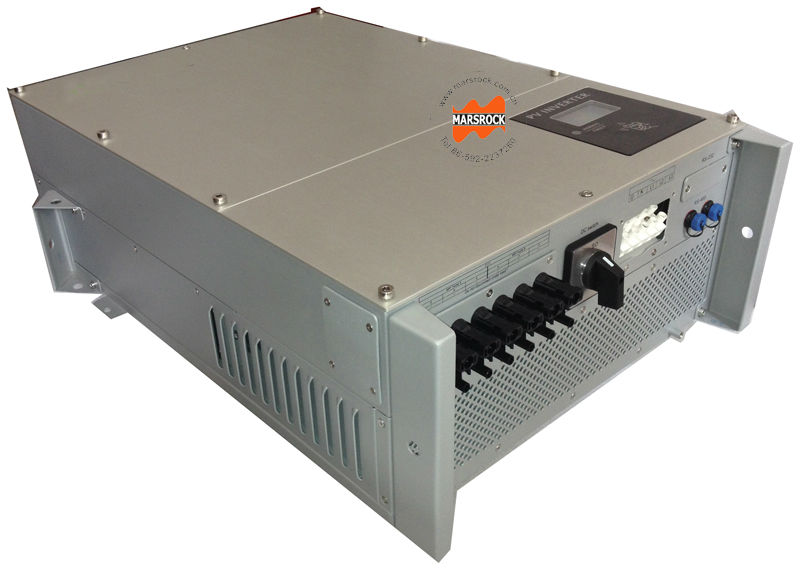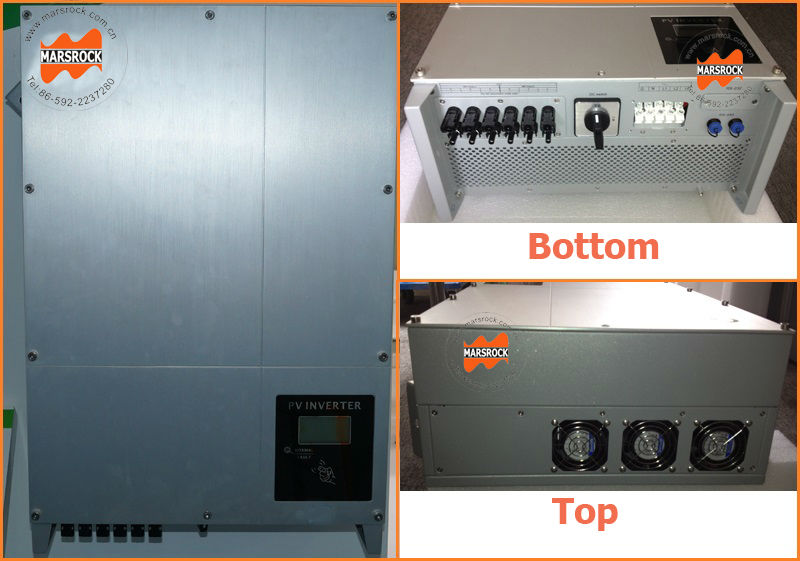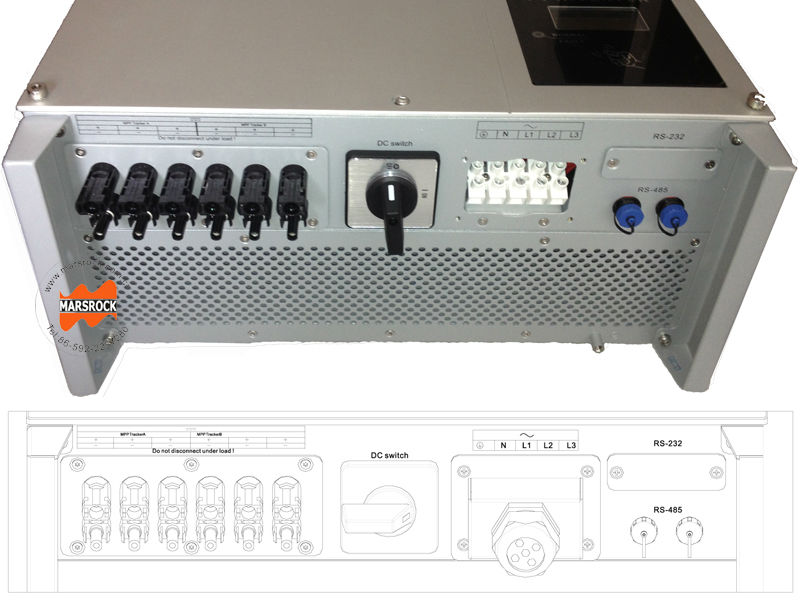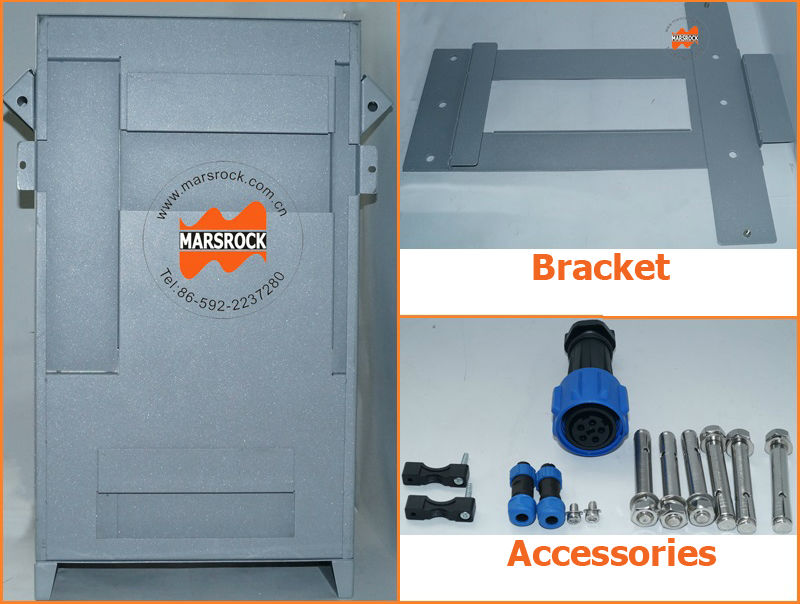 Communication & Monitoring Function
The connecting diagram as follow: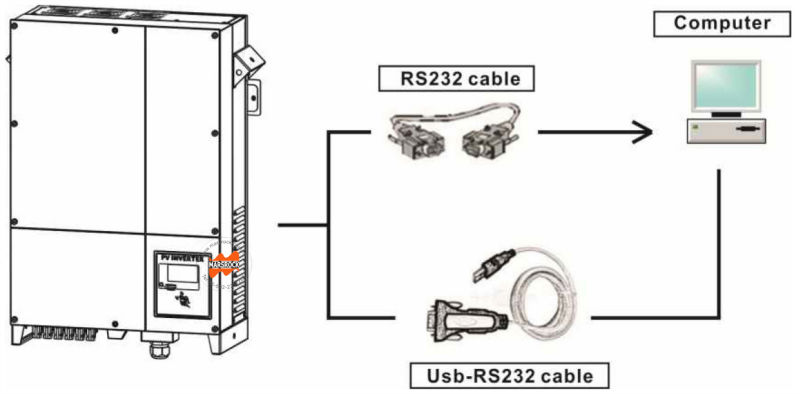 Active Power control with a ripple control signal receiver: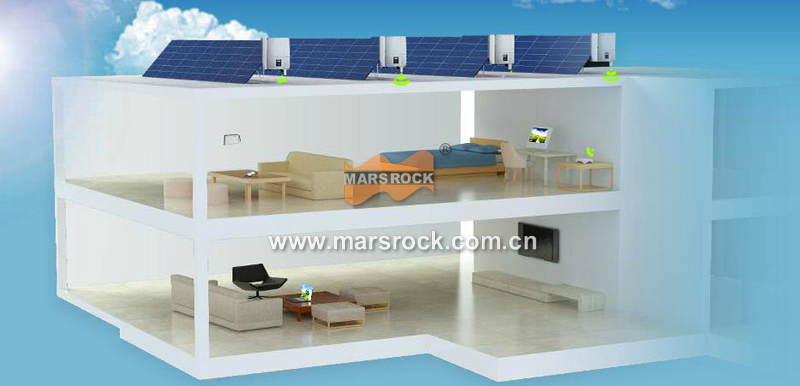 Professional Packaging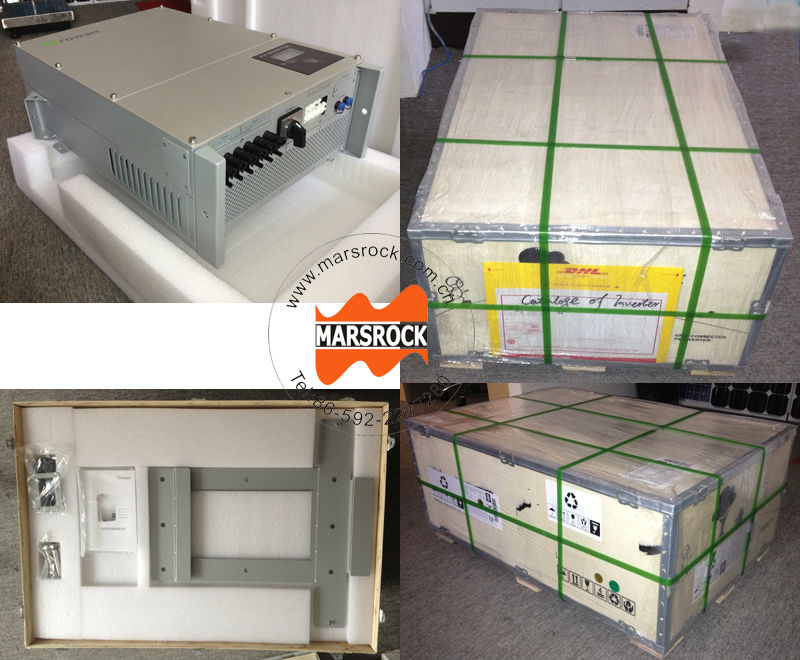 Application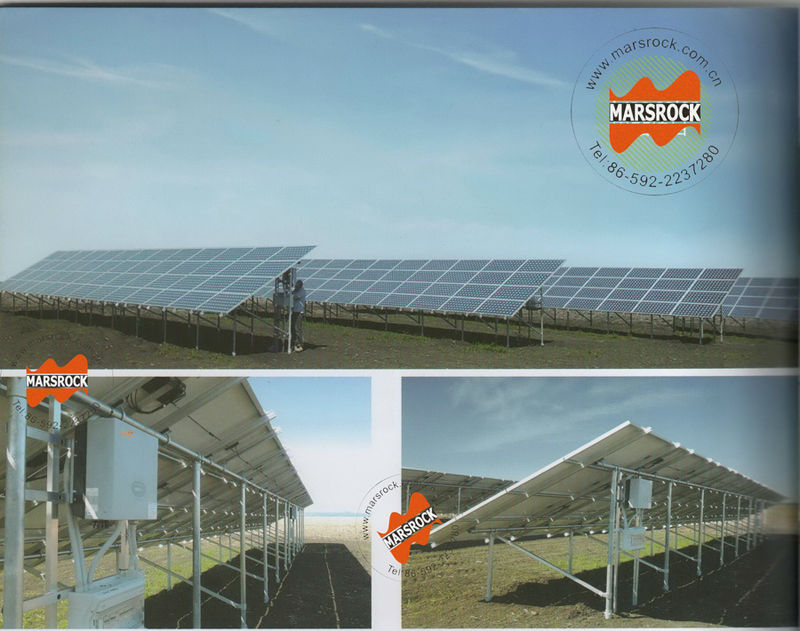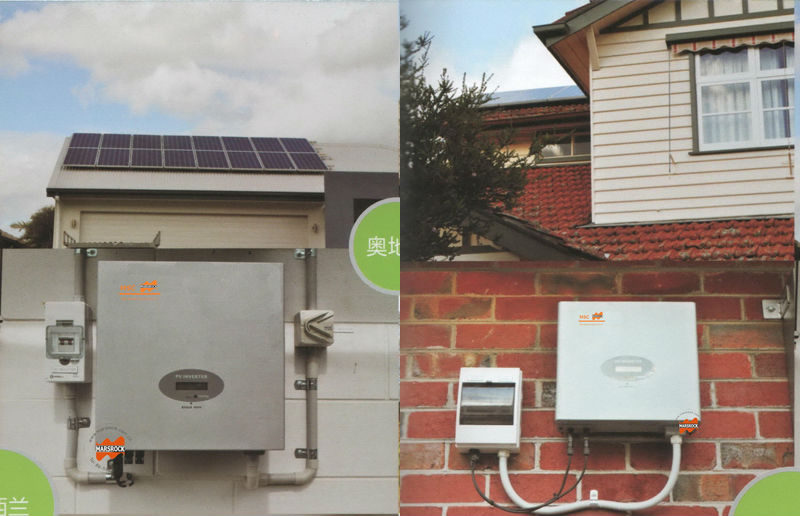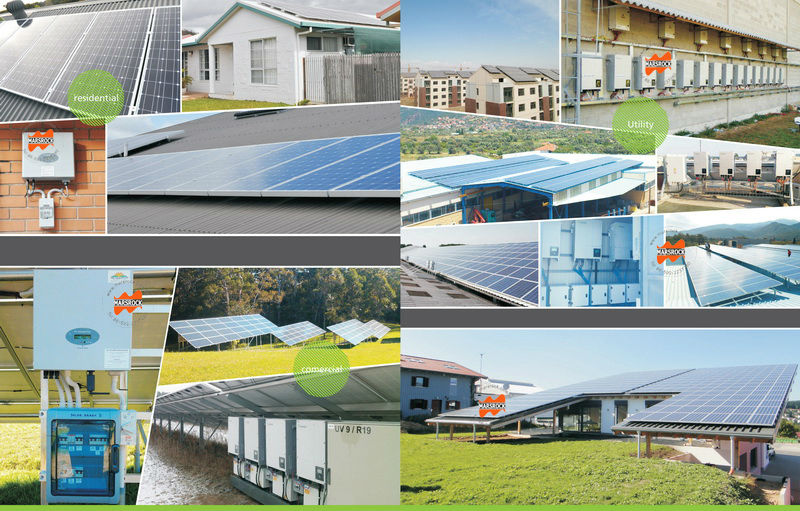 About MSC
MSC is our main power inverter factory which was established on Dec 2008. As a professional and vigorous new energy company focusing on photovoltaic inverters. Until today MarsRock has reached nearly 1,000MW installation worldwide, famous as a world leading manufacturer of cost-effective photovoltaic inverters with high efficiency.
Our Products
MSC offers a full line of PV inverters from 1kW to 1MW, together with our smart monitoring systems, which are completely applicable for residential & commercial roof and ground plants. UE series inverter is honored to be the first Asian PV inverter with A+ from Photon Lab; 5000MTL has also perfectly achieved A & A in Photon Lab in Dec. 2012.
MSC inverters, as the representative of high efficiency, conform to the safety, power level, and grid standards of nearly 20 countries in Europe, Americas, Australia, and Asian.  With the sales of USD 120 million in the past year.
Product Code: 630152789
Availability: In Stock
$1,957.72

Ex Tax: $1,957.72