1.5KW Water-Cooling Spindle Motor +1.5KW Inverter +70W water pump +10M Water Pipes+80MM spindle support +13pcs ER11 chcuk collet

100% Brand New
About Package Contents:                                
1 x 1.5KW Spindle Motor
1 x 1.5KW MATCHING INVERTER
1 x 70W Water Pump
1 x 10M Water Pipes
1 x 80mm spindle suppprt (Free 3pcs Screws)
13 x ER11 chuck(1-13MM)
About Product Description:                             
1.5KW WATER-COOLING
 
HIGH SPEED & PRECISION
 
SPINDLE MOTOR NUMERICAL ENGRAVING / GRINDING / MILLING
 
WATER-COOLED ER11 COLLET CHUCK
 
Technical Parameters for 1.5KW Matching with Variable Frequency Drive Inverter
 
This VFD can be used for constant torque loads (such as hard starting: Air compressors, HVAC units) and variable torque loads (such as pumps, fans, etc). It can be used as a motor speed control and a phase converter. The inpute for this VFD is 1 or 3 phase as you like.
 
You can control the different speed as you like when yo use this VFD.
 
Many customer bought this VFD from us to use for: Lathes, Mills, Car Hoists, Pumps & Conveyors, etc and then performance excellently.
 
This item use Sine wave PWN (SPWM) for the control system and performace excellently.
 
Inpute Voltage: 220 ± 15%
 
Output Voltage: 208-240VAC (analogous to Input Voltage)
 
Inpute Frequency: 48-63 Hz
 
Outpute Frequency: 0-400 Hz
 
Inpute Phase: suit for 1 phase input, and also suit for 3 phase input
 
Outpute Phase: 3 phase

 
Technical Parameter of 1.5KW Water-cooled Spindle motor
 
Specification: 80mm x Length: 188mm (including air interface:? 80mm X 203mm)
 
Power: 1.5 KW
 
Voltage: 220V
 
Frequency: 0-400 Hz
 
Speed: 10-24000 R / min
 
Water Cooling ER11 collet chuck
 
Runout off: less than 0.005mm
 
Grease Lubrication
 
Warranty: 3 years

Water-cooled spindle engraving machine dedicated circulation pump (brushless pump)
Parameters
Voltage: 220V
Frequency: 50/60HZ
Power: 80W
Diameter: 16mm / addition with 6mm copper pipe joints
Head: 3.5m
Flow: 3000L / H
Size: 153 * 105 * 135mm

Good for: engraving machine spindle pumps to maximum height of 3.5 meters!!!!!
About Image: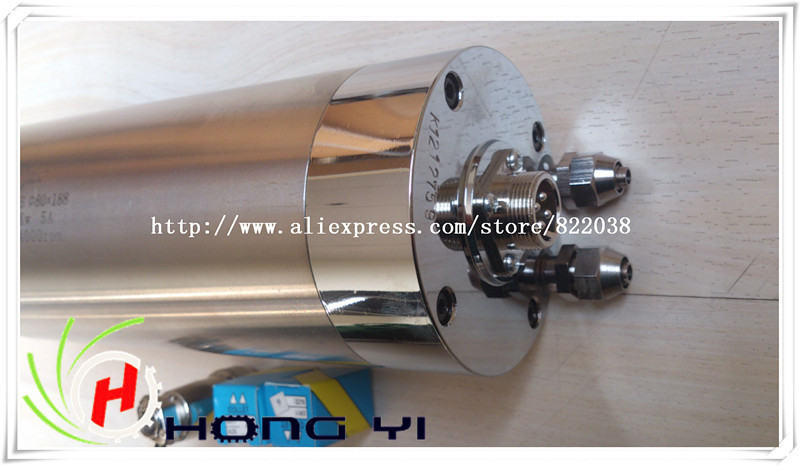 About remote address:                                  
About sending process:                                  
Product Code: 956305803
Availability: In Stock